Creating a safety program that includes the right elements for measuring safety performance, like leading and lagging indicators, is a critical step in boosting safety performance.
But supporting this program with contractor management software bumps safety up another notch at your organization by helping you lock in continuous improvement. Every business is different when safety is at stake. Some businesses hire more temporary workers and contractors than others. Some are more conscientious about safety standards and certifications than others.
So, no single safety program works for every business. If you're serious about boosting safety at your company, you'll need to create a program tailored specifically for your own needs—one that includes the right indicators to access your program's impact. Indicators are critical tools when measuring safety. They do two things to help you gauge safety performance:
      Measure the bottom line results of your safety efforts

      Tell you how well you're doing at preventing accidents and incidents.
Without this kind of feedback, you can't measure your program's effectiveness. If you can't measure effectiveness, you won't be able to select suitable changes or create continuous process improvement.  
Lagging Indicators vs. Leading Indicators
An indicator, can be described as any set of statistical values revealing the status of an economy's health if they are combined. Safety indicators are valuable measurement tools that show the impact of your safety program.
Building in performance indicators, like Days Away, Restricted, and Transfer (DART) or the percentage of compliant conditions in your program, tells you just how effective your safety efforts have been.
Leading and lagging indicators have a valuable effect on measuring safety performance.
These indicators focus on the future. They target events used to drive and measure activities designed to prevent and control behavior and injuries. They're proactive, predictive, and preventative.
Put another way, leading indicators measure a company's culture and its management system's integrity and performance.
Leading indicators include:
      Safety training

      Employee perception surveys

      Safety audits completed

      Safety inspections done

      Behavior sampling.
Lagging indicators, on the other hand, are the basic tools safety managers use for judging performance. Lagging indicators measure the past. They tell you things like how many workers have suffered from on-site injury, how many days of work lost to injuries, how many fatalities occurred last year, and so on.
Lagging indicators are reactive, not proactive. Like leading indicators, lagging indicators play a critical role in measuring a safety program's impact on the company. Lagging indicators include things like:
      OHSA recordable injuries

      OHSA citations

      DART-case rate

      Fatality rate

      Worker compensation claims

      Experience modification rate
Lagging indicators provide evidence when accidents occur at job sites but not the root causes of these mishaps. These indicators also provide incomplete correlations between the causes and effects of injuries.
Plus, they promote complacency. For example, it's only natural that if a manager sees a low injury rate, he or she re-focuses on achieving other unfulfillled safety goals.  
Lagging Indicators and Managing Safety
Of course, lagging indicators and leading indicators don't tell you the whole story of your company's performance. You need to combine them with other information to determine this.
In other words, if you want to boost safety at your company, you need to create a program that takes a comprehensive approach to doing things.
That program must include, not only the right leading and lagging indicators but also elements like performance targets (goals) and key performance indicators (KPIs). Typically, KPIs for a safety program provide details which include:
      

The number of injuries per year

      

Amount of training delivered, compared to the original plan

      

Environmental indicators

      

Investigations closed within so many days

      

Attendance levels

      

Days lost per FTE

      

Number of specific illnesses
Taking a holistic approach boosts safety up a notch. It takes safety out of the realm of mundane activities, like issuing rules and regulations, doing safety audits, and writing safety reports.
Easily Tracking Lagging Indicators
Lagging indicators are critical to a holistic approach to safety. But if you're like many safety managers, you may oversee multiple sites and hundreds of employees.  These factors make your job harder and more complex than senior management may realize. From verifying documentation to providing safety training, managing safety can be a nightmare.
As a safety manager, you may also oversee multiple contractors and subcontractors. These organizations may all have different safety attitudes and standards held by a numerous amount of changing temporary workers.
Nevertheless, it's your job to ensure that workers and contractors all meet the relevant health and safety requirements.
This high level of complexity is the main reason why more and more companies are adding contractor management software to their arsenal of safety tools. This solution simplifies and streamlines safety management, providing enormous benefits, including:
      Improved documentation

      Consistent communication

      Clear policies and procedures  

      Regular training and recertification

      Efficient job safety analysis
Contractor management software also identifies and assesses any risks involved, boosts documentation control, and increases efficient training delivery.
It also cuts down the time taken to search for relevant information. If the software is web-based, you'll also cut training costs, boosting worker retention and understanding.
Lagging Indicators and GoContractor's Solution
GoContractor's contract management solution features functionality that greatly simplifies the effectiveness of safety performance, providing features such as the tracking of lagging indicators. The solution's Traffic Light feature, for instance, uses a red/amber/green color scheme to represent the safety status of a temporary worker's documents.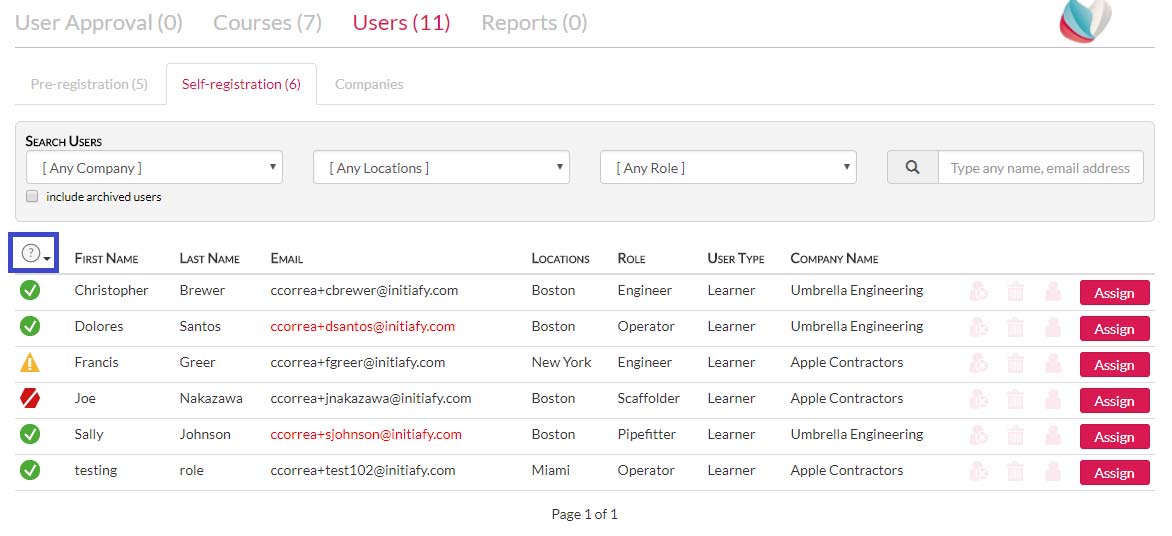 If any worker lacks a valid OSHA 10 certificate, the software marks this on their records in red, so you know to keep him or her off-site. The Traffic Light feature also helps you to more effectively manage contractor companies. Contractors with a green status, for instance, have met all the necessary safety requirements, so it's okay using them on site.
Contractors with a red status, however, are missing valid or up-to-date mandatory documents (insurance, health, and safety statement), so you don't want to choose them.  Simply put, contractor management software eliminates the complexity of managing multiple worksites, numerous contractor companies, and dozens of workers.
Combining this software solution with a holistic safety program, which includes elements such as leading and lagging indicators provides a solid foundation for boosting safety at your company, locking in continuous improvement. That, in turn, provides an excellent ROI for the money invested—something senior managers at your company will like.